chadwell ladies kickboxing

Ladies kickboxing?
in the early days of kickboxing women were very much in a minority, as it has become more and more popular,the ammount of ladies taking up the martial arts has grown out of all proportion.
We at the chadwell group are proud of the ladies whom we have trained, and we are actively seeking new ladies to join the group.
It matters not one bit, if you do not wish to fight, many of our ladies don't, the training is the same,and the confidence gained by our ladies is something to see? having witnessed this on more than a few occassions.
our ladies soon become used to the training, and the self defence aspects of our teaching pays big rewards in self belief and confidence.

MARTINA WALTON.
martina joined our club nearly seven years ago,she is in fact the longest serving member of our group.
she has taken part in three light contact fights,also she has learned how to be a fight official,taking part in some important kickboxing shows.
martina achieved her instructor status two years ago on completion of her black belt exam, the first lady to do so from the chadwell club.
We have trained many ladies over the years,and in general they find it much more easy to learn than the men?
women tend to be more flexable than thier male counterparts, so kicking often becomes second nature to them.
If anyone ever says that women cannot fight, just let them take a look at some of the world champions that are being paid huge sums of money in the united states and japan? cathy long was paid in excess of $250,000 for her last fight? if it was true that ladies can't fight, why would the ammerican cable and pay per view companies put up such large purse offers?
two of our girls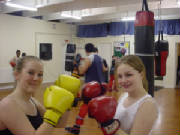 tuesday evening class
KERRY HEAPY.
kerry joined the club early last year, she has proved to be very adept at kickboxing.
she had her first contest last month, narrowly losing by one point?
she has heart, and trains very hard, she is due to fight again on april 23rd, with an opponent yet to be confirmed her fight weight is 55kgs,
so if you would like to fight kerry, get in touch with us soon.