JIM RAFTER

SOUTHERN AREA CHAMPION
JIM RAFTER.
jim became the southern area champion with a unanimous points victory over the more experienced champion, mick arthur, jim has fought mick before, earlier in the year, a fight wich ended in a draw?
although plagued by injury, jim intends to defend this title as often as he can.
and he also wants to try to unify the southern area scene, with a bout against ROY RIPPER BALDWIN.(w.k.a. champion)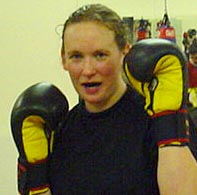 MARTINA WALTON.
our first ever lady to reach black belt,three times she has fought in the sport,and this is more than some of the men?
now she is an instructor,but due to work commitments, she is rarely at the club.
CHRIS DAY

CHRIS DAY.
former full contact fighter,boxer.
now an instructor for the club, reff, judge.
joined the club this year, and has proven to be a very popular instructor.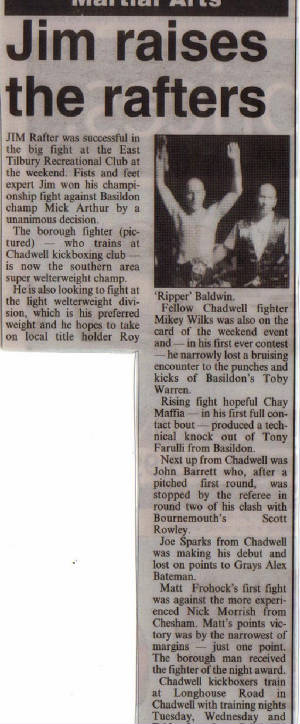 jim has made the decission to become a coach for the club, he is now training in this endevour! comming from the background of boxing, jim will be an asset to the club.
he will join our established instructors, helping to make the club even more successfull.
SCOTT LITTLE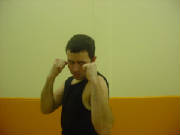 BLACKBELT
SCOTT LITTLE.
kent open finalist 2001/2
chesham open finalist 2002
2nd ever male black belt.
MARLEY MAFFIA.
kent open champion 2002/3
chesham open finalist 2003.
CHAY MAFFIA.
kent open champion 2002/3
chesham open champion 2003
full contact-unbeaten.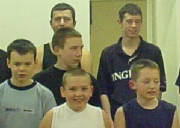 top. scott little-john barrett
mid.ben hamilton-ryan butler
bot.marley maffia-josh guy
JOHN BARRETT. FULL CONTACT 3-2-1-0 ko's
BEN HAMILTON. B.I.K.M.A. CHAMPION (RUNNER UP 2002)
KENT OPEN FINALIST 2002/3 CHESHAM CHAMP 2003.
MARLEY MAFFIA (SEE PREVIOUS)
RYAN BUTLER BROWN BELT.JOSH GUY. FINALIST 2002/3.