so you want to fight?
so you think that maybe this sport is for you? think you will be able to take part in full contact fighting? it doesn't come easy, many people think they can do it, but many find out that it takes more courage than they expected!
training takes efort & commitment, it's very hard work.
at our club, you will only be allowed to take part if you can prove your fitness, and your abillity.
the instructors wont just throw you in, thats a recipe for destruction.
we pride ourselves on the condition of our fighters,we never alow an unfit person to compete.
Entering the ring can be a daunting prospect, for every ten people we put in the ring, only one will do it again?
your knees will shake, heart will pound, mouth goes dry,fear will grip you!
can you see yourself in the ring?
we train you only one way for this type of contest, hard, there is no other way, so beware, the fight may be easy, but the training will not be.
three months preparation is required, for each contest,this is a minimum, any less and your level of fitness is not good enough.
you can never tell how a student is going to stand up to full contact, we have been wrong on more than one occasion, never judge a book by its cover.
men, women, young and old, we have put forward many students in full contact.
some have won, some lost, some were beaten even before getting in the ring.
but always they are fit.
jim rafter has won a southern area title, he trains hard, he has not had too much experience in kickboxing, having first tried boxing.
he took on and beat former champion mick arthur from basildon free style 15f 11w 3l 1d winning by unanimous decission.
jim rafter

southern area superwelterweight champion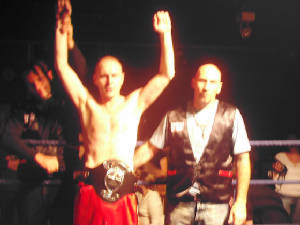 we have one of the best equiped gyms in the county!
all our equipment is of superiour quality, and we continue to renew it as and when it is needed.